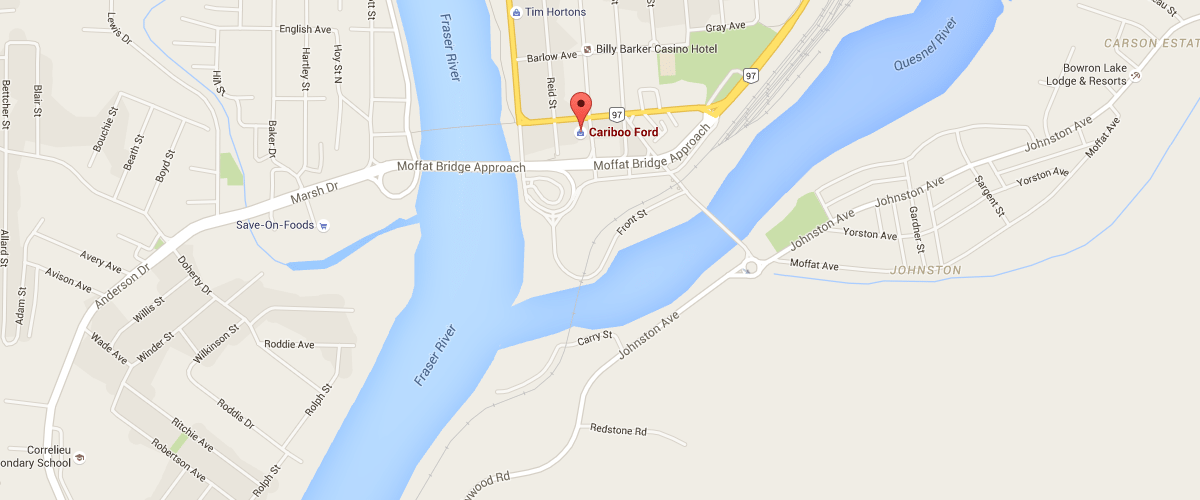 Contact Us
Call
877-810-5545
Hours
Monday: 8:00 AM to 5:30 PM
Tuesday: 8:00 AM to 5:30 PM
Wednesday: 8:00 AM to 5:30 PM
Thursday: 8:00 AM to 5:30 PM
Friday: 8:00 AM to 5:30 PM
Saturday: 8:00 AM to 5:00 PM
Sunday: Closed
Call
855-428-8401
Hours

Monday: 7:30 AM to 5:30 PM
Tuesday: 7:30 AM to 5:30 PM
Wednesday: 7:30 AM to 5:30 PM
Thursday: 7:30 AM to 5:30 PM
Friday: 7:30 AM to 5:30 PM
Saturday: 8:00 AM to 5:00 PM
Sunday: Closed
Call
877-869-9615
Hours

Monday: 8:00 AM to 5:30 PM
Tuesday: 8:00 AM to 5:30 PM
Wednesday: 8:00 AM to 5:30 PM
Thursday: 8:00 AM to 5:30 PM
Friday: 8:00 AM to 5:30 PM
Saturday: 8:00 AM to 5:00 PM
Sunday: Closed
About Cariboo Ford
Our full-service dealership has served the North Cariboo region for over 70-years from the same downtown location. We employ 26 full-time staff in sales, parts & service. The key to our success in the region is a willingness to adapt and respond to the needs of our customers. Whether it be the purchase of a new or pre-owned vehicle, or the service & maintenance of your present vehicle, we have the factory-trained professionals in place to satisfy your transportation needs. We are committed to serving our friends and customers and look forward to hearing from you.
Meet Our Staff
Stop by Cariboo Ford for all your Ford service needs.
Questions? Any of our knowledgeable service and sales people can help.
Call 877-810-5545.
SHARE YOUR EXPERIENCE

*Required Fields